Wessels is the Workplace Services Specialist
Wessels Workplace is Greater Cincinnati's premier independent furniture installation and office relocation specialists, offering a full range of services for your business.
Experience. The Wessels team has been in the industry for over 30 years and founders -- Greg and Rob Wessels -- have over 45 years of combined industry experience.


Dedicated and Professional. Our committed team ensures your project receives the appropriate care and attention it deserves.


Fully insured. We are able to handle any moving or delivery project - nothing is too big, confidential or valuable.


Well-managed, spacious facility. Ensures your furniture and goods are held in a secure, climate-controlled environment.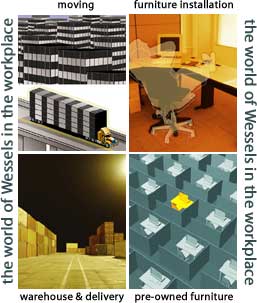 "Wessels did an outstanding job with the move and installation. The end users sent me
several compliments about Wessel's staff. They were professional and gave excellent
customer service. I would highly recommend Wessels for any move, no matter how easy or
complicated it may be."

Patti Meszaros
Regional Manager,
Facility Planning
Mercy Health Partners